Prepare a classic cheesecake at home - the science is not so difficult as it might seem at first glance. It is important to learn a few simple (but mandatory!) Rules: cream cheese (*cream cheese - cream cheese) can not be replaced by other "peers" (or mascarpone or cream cheese, or ricotta and even more melting soft cheese), otherwise the output you get something else, but not the classic "New York." Also, I do not recommend to change the ratio of ingredients - in short, stick to the recipe. And last (but not least) - please be patient :)
By the way, if you actually cooking diet cheesecake, I advise you to contact to this recipe - It is this variation, in my opinion, is the most similar to the original structure, but of course, not a hair's breadth :) And if you are looking for a compromise, make the basis of prescription diet, and "stuffing" - the classic.
As for the cream Chiza - understand that to find it in stores is sometimes difficult, and expensive will be. In this case, I recommend to do it yourself for this recipe (Well, everything is sooo easy, even a child to cope :). As they say, cheap and cheerful. At the exit you get a high quality cream cheese, which is ideal to prepare a classic cheesecake.
Bake the "right" should be the classic cheesecake in a water bath. Immediately I make a reservation: do not be afraid of this moment, simply wrap your split mold in 2 layer of foil and place on a baking tray with hot water or in a large-sized form. The steam prevents drying of the surface, thanks to a classic cheesecake get high without unwanted cracks.
If, for some reason, bake in a water bath, you can not bake as usual. But keep in mind: the top can be formed cracks. It is not 100%, just warn you that there is such a possibility.
Another detail: the heat in the oven should not be strong (not more than 130-150 degrees). If the temperature in your oven handle difficult (and fries he was "not a child" :), put on the very top shelf of empty pan and cheesecake - on average. So the heat will not be too aggressive, and the cheesecake does not darken the top.
And the last. In many recipes as basis for cheesecake offer to take the shortbread, grind it, pour the melted butter and form a "cake". We will not do that! First of all, it is no better that the method that I suggest. Believe me, in the authentic recipes of restaurants in New York is hardly the basis for doing so cheesecake :) Secondly, for my taste, the base of the pastry with butter enough "heavy", it is fatter. In addition, 99% Pastry Shop contains the so-called "sweet oil":. Trans-fats (margarine, etc. gidrogenizrovannye oil in the environment that can be read in this my article) Or palm oil. I advise you to avoid a part of such ingredients. And, yes, such a framework is fragile, and easily crumbled due cookie candy bears additional "unwanted" sweetness.
Sam cheesecake sweet enough, so I do not add sugar in the cake for the base. I assure you, his absence there you will not even notice! By the way, the flour for the base can be used as top grade, and if you like, whole wheat (or oats). I had not even noticed "dirty trick", when used the other flour.
So, if you read my "laconic" entry :), now, knowing all the details, easily and naturally Bring delicious cheesecake classic.
Cheesecake classic: a step by step recipe
Ingredients for the base (in the form of 20 cm):
flour - 100-120 g;
butter (cold or room temperature) - 40-50 g;
a pinch of salt;
the water is cold - 2-3 tbsp
sugar - at will and taste.
Ingredients for "stuffing":
cream cheese - 700 g;
cream (from 30%) - 150-200 ml;
eggs - 3 pieces;
sugar* - 100-150 г или по вкусу;
vanilla extract or vanilla - to taste;
corn starch - 1 tbsp with a slide;
salt - on the tip of a knife.
*Instead of sugar in this recipe is permissible to use syrups /stevia. The quality and structure of the cheesecake is not affected.
Preparation:
To start, prepare a detachable baking dish: it Cover the parchment and the outside of the wrap in foil layer 2.
Preheat oven to 130-150 degrees.
Basis: Mix flour, cold butter (or room temperature), water, salt. Grind a lot of hands. The dough should have a uniform and moderately stiff, like plasticine. Roll it into a ball and store in the refrigerator for 20-30 minutes.
After this time, remove the dough. Roll out a little with the help of a rolling pin and transfer into a mold, distributing evenly over the bottom of the fingers. Pricked with a fork in several places (to base much was raised and swollen) and send it in the oven minutes 10-12.
"Filling": in a large bowl, combine cream cheese, eggs (breaking one), cream (add small portions), sugar and so on. ingredients. Stir recommend a whisk instead of an electric mixer to not oversaturate weight of oxygen, it is useless!
Spread the cheese-creamy mass evenly over the cake (which is not crude - he was a little bake in the oven).
In a high pan, pour hot water on 2 / 3, or just below, and place on the middle shelf of the oven. Form a cheesecake place on a baking sheet.
Bake for about an hour 1 30 minutes (sometimes and it may take a little less). Do not overdo!
In the finished cheesecake middle, I should be a little "shake" if the swing form.
Turn off the oven a little slightly open and allow it to cool after standing in the oven 30-40 minutes.
After remove, cool (2 hours) and send "ripen" in the refrigerator, ideally at night.
Cheesecake classic: PS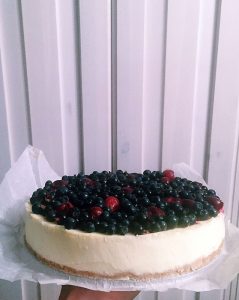 In no case do not remove the cheesecake from the mold until it has cooled completely and did not reach the necessary standard! Be patient. Do it best before serving: slide a sharp knife along the rim shape, gently open it, remove the cheesecake.
At the request of the classic cheesecake decorate with berries, fruit and jam. It is also well suited topping chocolate - chocolate lovers will not remain indifferent (For the glaze, melt chocolate, add to it a couple of tablespoons of cream or milk, mix thoroughly to a smooth homogeneous consistency, cool, pour over the top).
Enjoy it!