If not all, many people are now covered by a problem: what to prepare for the new year. The holiday is getting closer, and I want everything to be beautiful, delicious and elegant, in a new way to visit relatives and were satisfied, and in the morning no one was heaviness in the stomach (which, unfortunately, happens often).
In this article, I decided to collect their best recipes: those that perfectly complement any New Year's table, leaving no one indifferent (or those who are desperately watching calories, or those who like posytnee :). Almost all of these dishes are bound to be on my New Year's and Christmas table.
You still do not know what to prepare for the new year? Then read, inspire and add to your favorites! :)
What to prepare for the new year: salads
Unchanged classic New Year celebrations for centuries have been the legendary "Olivier" and herring "under a fur coat." I'm sure, in every house they prepared for their family recipes. I think it makes no sense to argue, "in vogue" Are these salads have either not, everyone decides for himself.
I suggest you try a few new and interesting salads.
I'll start with a refreshing green salad of arugula adored, of which I am a fan.
Salad with arugula, grapefruit and salted salmon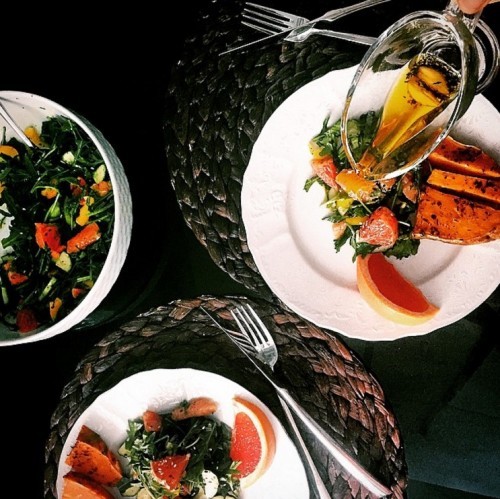 Ingredients (for 4 portions):
arugula - large handful (100-150 g);
cucumbers medium - 2 pieces;
salted salmon (salmon / trout) - 200 g;
Grapefruit small - 1 pieces;
pepper - 1 pieces;
salt and pepper - to taste;
pine nuts* - A handful of optional;
balsamic and olive oil to refuel.
Preparation:
Arugula little break hands (smaller or larger, up to you :). Vegetables cut.
Grapefruit brush (like an orange), divided into slices, cut and send to the vegetables (plenochku-pelt with grapefruit do not remove).
Nuts lightly fry in a dry frying pan (1-2 minutes).
The fish is cut into small pieces. All the ingredients are mixed, add salt and pepper to taste. Season with balsamic vinegar and olive oil Extra Virgin.
Another favorite unusual salad I -
Chicken salad, apple and celery
Ingredients:
chicken breast - 300-400 g;
celery - 3-4 pieces;
apple sour-sweet (or sour) - 1 pieces;
cilantro - 1 beam;
walnuts - a handful;
For the filling:
Greek yogurt - 2-3 tbsp;
Dijon mustard - 0,5-1 tsp;
lemon juice - to taste.
Preparation:
Breast boil, cool. Cut into small pieces.
Apple grate. The stalk of celery and cilantro cut.
Walnuts are washed, dried, broken into pieces.
Mix all the ingredients.
Make a dressing (combine yogurt, mustard, lemon juice and mix until smooth), pour salad, stir.
Before serving, ideally cooled.
These low-calorie salads, but in the meantime and hearty (due to the presence of protein and fat). Useful and easy refueling will not leave heaviness in the stomach and an unpleasant aftertaste in the mouth.
Also, I highly recommend you to try pumpkin salad and quinoa – лично меня пленил его харизматичный вкус, celery salad with chicken liver.
What to prepare for the new year: snacks
As for appetizers, then I love them, perhaps more than anything else for any holiday table.
Snack for me sometimes can replace the main dish, combining the useful ingredients in the "correct" interpretation.
Snacks can try a lot - every little bit. For me, it's much nicer to eat than 2-3 portions of different salads.
Very comfortable lodge snacks if your feast format - buffet.
Cooking meals, usually easily. Complementing and decorating them in different ways, you can get a completely different dish: sometimes difficult to guess that they are based on the same ingredients.
One of my favorite snacks -
Crispy toast with guacamole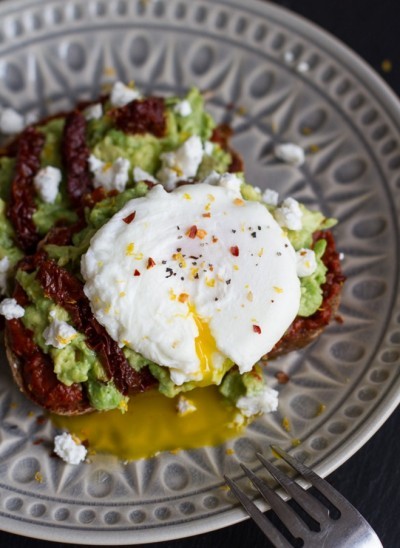 Ingredients:
black bread or wholemeal - on request;
Avocado - 2 pieces;
onion - ½ medium onion;
lime juice 1;
cilantro - 1 beam;
chili - 1 pieces;
Coriander powder - to taste;
salt and black pepper - to taste.
Preparation:
Immediately I make a reservation, guacamole recipes - a few dozen! Someone preparing it with a bow, someone - with garlic, some people like to add tomatoes, basil and so forth.
I suggest to try my recipe, it can be said, a basic and very simple.
By the way, picking avocados, pay attention to the fruit was unsteady (check by pushing). Meanwhile, the skin should be green and not blackened.
Avocado peel and remove the pulp with a spoon.
Onion, cilantro and chili peppers (without seeds), chop finely. Squeeze the juice from the lime.
Combine all ingredients (you can use a blender or a fork until smooth frayed by the way, even coming across large pieces you are not confused - Mexican guacamole served that way).
Add salt and spices to taste.
Bread lightly fry on a dry (!) Hot pan on both sides. Spread his guacamole, if desired garnish with dried tomatoes, goat cheese. Especially tasty snack that complements poached egg.
You can also decorate with toasted shrimp or salted red fish.
If you are bored with the standard battered recipes, be sure to try a hit of Georgian cuisine - pkhali.
Fans of chicken (or duck) liver gladly recommend soufflésand confit.
Also, I think more than one holiday table (especially Christmas) should not do without cheese terrine with figs and honey (This is just the bomb!) And riyeta salmon. For starters, you can apply profiteroles, Pancakes, ciabatta, matzah, pita bread (and dr.presny bread); toast or crackers, and finally vegetable sticks (asparagus, carrots, celery). Guests will be thrilled!
What to prepare for the new year: the main dishes and hot
Frankly, thinking about what to cook for the new year, the last thing I bother with hot and main dishes.
Prefer that the abundance of snacks.
Of course, hot for any holiday table, I am applying. As a rule, it is oven baked chicken (baked in the sleeve) or fish (salmon, trout, coho less).
Here, I put emphasis on the quality of meat / fish and marinade.
Chicken (breast and other parts) usually marinate as: soy sauce, chopped onion rings, seasoning (a mixture of Provencal herbs or hops-suneli). All of this mix, watering-rubbed chicken parts, put in a container and leave marinated overnight in a refrigerator. After Bake in a package of about 40-50 180 minutes at degrees.
As for the marinade for fish, do this: mix a little soy sauce, a spoonful of Dijon mustard, wild honey (he has a very bright spicy taste) and grated on a fine grated fresh ginger (also about 1 tablespoons). You can use dried, but the taste will be slightly wrong. Yes, often I add to the marinade a sprig of thyme. The fish is rubbed and tidy, as well as chicken, marinate overnight in the refrigerator. Then I bake.
If your party will bring together fans of Mediterranean cuisine, I highly recommend them to surprise risotto with spinach and prawns.
Yes, by the way, Chicken liver souffléOf which I have already mentioned, we can safely apply and as a main dish.
One of the signature dishes of our family, which is almost always supplied to the New Year table - stuffed pike.
Sam recipe is not so complex, there is only one important detail - how skillfully you remove the skin with, without damaging its fish.
Stuffed pike on the "cushion" of vegetables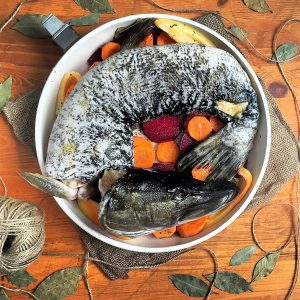 Ingredients:
pike (fresh or frozen, but it is important - from the head!) - 1,5-2 kg;
onion - 1 pieces;
carrots - 1 pieces;
pepper - ½ piece;
1 egg;
flour - 2 tbsp;
Coriander powder - to taste;
Thyme (fresh or dried) - a pinch;
a mixture of peppers* - taste;
salt - 1 tsp or taste;
butter room temperature**- 2 tbsp
*You can use a special seasoning for fish or pick them up at your leisure. Only advise you not to skimp, because if elderly pike, its river smell can be too intrusive.
**Since meat pike dry enough, it is possible (but not necessary), add to stuffing a couple of tablespoons of butter. You can replace and olive!
For a vegetable "pillow":
pepper or seasonal compactor - 2-3 pieces;
big carrot - 2-3 pieces;
beet - 3 pieces.
Preparation:
To properly remove the skin from the pike, I propose to examine the process by videoWhere the internet a lot.
The methods are different (some prefer to cut off the head, someone considers it necessary to preserve it - it does not matter), the essence is - gently pry the knife the skin in a circle in the place where the carcass of the fish begins (after the head) and remove it, helping knife, like stockings, as if twisting inside out.
When the skin is separated, it can be delayed for a while, a little salt.
The meat must be separated from the bones, then mince 2 times (or carefully grind blender).
In the beef add the egg, finely chopped onion and ½ pepper, grated carrot. To stir thoroughly.
Add flour, oil, spices, salt and mix until uniform. On the smell of beef should be enjoyable (with a hint of spices and vegetables).
Carefully fill the skin of pike meat (too tightly is not necessary).
Vegetables intended for vegetable "pillow", clean and chop coarsely (carrots and beets - mugs, pepper - into quarters). Put them on the bottom of the heat-resistant form (utyatnitsu, frying, baking high), lay them on a pike (as pictured).
Top recommend tightening foil to pike was drying in the oven - so get much juicier.
Send stuffed pike in a preheated oven for degrees 180 60-80 minutes. During this time the vegetables will give a flavor of the fish, and the fish itself will become very tender.
Serve stuffed pike can be warm or cold vegetables with which it is baked. Before serving, garnish with herbs if desired.
What to prepare for the new year: sweets and cakes
If you ask me, a cake prepared for the new year ... I can hardly give a definite answer :)
In our family, there are a few favorite recipes. Yes, and one cake, as a rule, can not do :)
All my best cakes, The most delicious and will impress even the most discerning of critics, you will find in the corresponding section.
Definitely I can say that the site enjoys wide popularity Honey cake. From the most simple (which means no less tasty!) Is in the lead chocolate biscuit easierFor which will fit almost any cream and decorations. This moist cake with a rich taste is difficult to spoil anything!
Do you want something new and unusual - think gingerbread cake the original recipe of the famous pastry chef Linda Lomelino you have not tried? .. What is not a reason to try it!
Well, if not a cake, make sure you prepare brownie or air marble cake. With such pastries, by the way, great to go on a visit 1 or 2 of January.
Of course, getting ready for Christmas and New Year, do not forget Stollen. Its flavor can not be compared with anything, it's something amazing. Regardless of what kind of cake is on your holiday table, be sure to bake Stollen!
Well, what the New Year without a classic ginger cookies? - Aroma crazy, + 100500 to the Christmas mood and beautiful tree-decorated cakes, will make your holiday truly magical. Children will appreciate without any doubt: and eat, and play, and to present to your friends!
Yes, if you follow the figure and do not let too much, you can please yourself curd cheesecake or homemade ice cream diet.
Excellent continental dessert - Coffee Panna Cotta (Without sugar and excess fat), dessert stunning, a great alternative to the original recipe.
And 1 January with a cup of coffee in the morning, you can indulge in delicious Italian dessert semifreddo. Describe the words, it is impossible - just try.
If nothing of the above did not seem interesting to you, then check out the Bakery products, Was full of recipes for every taste, including dietary.
Hopefully, after reading this article you have selected at least a couple of recipes for your New Year's table and is no longer tormented by the question, what dishes to prepare for the new year :) - definitely useful, colorful, not dull, fine!