Who does not love profiteroles? If such there is, then ... you just have not tried these homemade profiteroles, melt in your mouth!
Before passing to the story, what marvelous "buns" and a fascinating process of making them, I must warn you: profiteroles very tricky! They eat you like without you, one after the other - it is practically impossible to stay :)!
Profiteroles dough is very easy to cook, but eating them in early childhood (bought in bulk in the confectionery department), one could hardly imagine that bake them simple.
Purchased profiteroles I have not eaten already 100 years, but the stove like.
They perfectly complement any holiday table, and as sweet, and as a snack. Serve with cheese terrine, Cut off the top and gently filled profiteroles with a syringe, with riyetom salmonWith ricotta and spinach with cream cheese or cottage cheese, adding, for example, sun-dried tomatoes, olives, avocado, shrimp and so on. With goat cheese is also very tasty. In general, any toppings will perfectly complement homemade profiteroles. Even the most simple - the usual cottage cheese with fresh herbs and a handful of parmesan. Perhaps my favorite option.
As for sweet, "fillers", here opens the inconceivable number of variants: the condensed milk and whipped cream, and butter cream, and cottage cheese and custard ... Add to cream spoon favorite jam or melted chocolate, nuts or berries, you get a lot of new flavors.
By the way, for the preparation of sweet profiteroles, I can recommend to you Super-cream (Aka - for honey cake cream; the proportions can be reduced in 2 times), it is fantastic!
And you can do without anything. After all, home profiteroles can disappear before you cook the cream!
Homemade profiteroles: recipe
Ingredients:
flour - 140 g;
butter - 125 g;
eggs - 4 pieces;
water - 250 ml;
salt - ½ tsp
Preparation:
Sift flour.
In saucepan pour water, add the oil, salt. Stirring, bring to a boil and the complete dissolution of the oil. Just enter portions of flour in a saucepan, fire abated to a minimum. Knead the dough uniform.
Remove from heat, cool slightly (5 minutes).
Breaking the eggs one at a time, beating the dough mixer (flat beater or helical!).
Оно должно получиться очень тягучим (не жидким, НО и не слишком густым). Если ваше тесто скорее густое, а не тягучее, рекомендую добавить еще одно или ½ яйца.
On a baking sheet, the laid parchment spoon or using a pastry bag otsadit future profiteroles.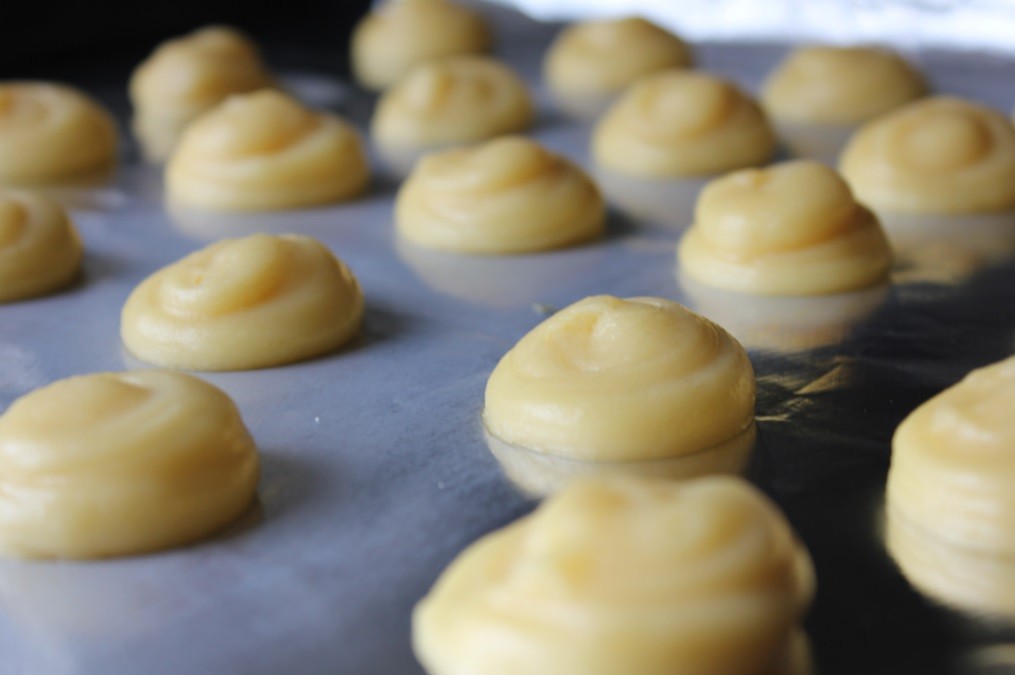 Bake 15-20 minutes (guided by their appearance - can not go wrong!).
Just like profiteroles cook at home!
Serve with sour cream or savory filling (neatly cut off a "cap" or enter via a syringe).
What is not an appetizer for the holiday table, agree? :)