I'm sure everyone knows biscotti - unusually tasty Italian biscuit, which is best combined with a cup of coffee or tea, melting in the mouth at the same time.
Actually biscotti - is sufficiently generalized cookie name in Italy. It can be prepared with nuts and chocolate chips (or cocoa), and without anything at all! But it is the same kind that in the photo, oblong and always with almonds and / or pistachios - famous kantuchchi they come from Tuscany.
Biscotti in Italian - twice baked, due to the preparation technique (first of dough made "sausage" and baked minutes 20 almost fully cooked, then cut into thin crackers, which again need to be dried in the oven already 7-10 minutes).
In the classic form biscotti very similar to our domestic vanilla crackers, but absolutely no taste. Biscotti biscuits more crumbly, with a bright creamy taste without vanilla flavor!
I offer you a classic recipe for biscotti, let alone what to add (chocolate, raisins or nuts), you decide for yourself :)
My biscotti on the photo - with almonds and pistachios.
Italian biscotti: recipe
Ingredients:
wheat flour / s* - 300 g;
butter - 50 g;
sugar - 150 g or to your taste;
eggs - 2 pieces;
baking powder - 1 tsp;
salt - 1 tsp
*Also you can use and wholegrain flour or join in / s and c / s in the desired proportions.
Optional / on request:
almonds - a handful;
pistachios - a handful;
Chocolate (finely chopped) - a handful;
raisins - a handful;
orange peel - to taste;
Cocoa - 2 tbsp
Preparation:
If using nuts, lightly fry them in a dry pan.
Butter room temperature whip / grind with sugar, add eggs one at a time, once again shake up. If using orange zest, it should also be added at this stage.
To add a creamy mass of nuts (if desired, you can chop) / dried fruit.
Sift remaining dry ingredients, parts enter into the oil mixture with an electric mixer or a spatula to knead dough.
The resulting dough is divided into 2-3 equal parts. From each roll, "sausage", flatten it slightly, giving the desired shape (as pictured). Yes, definitely put a baking parchment.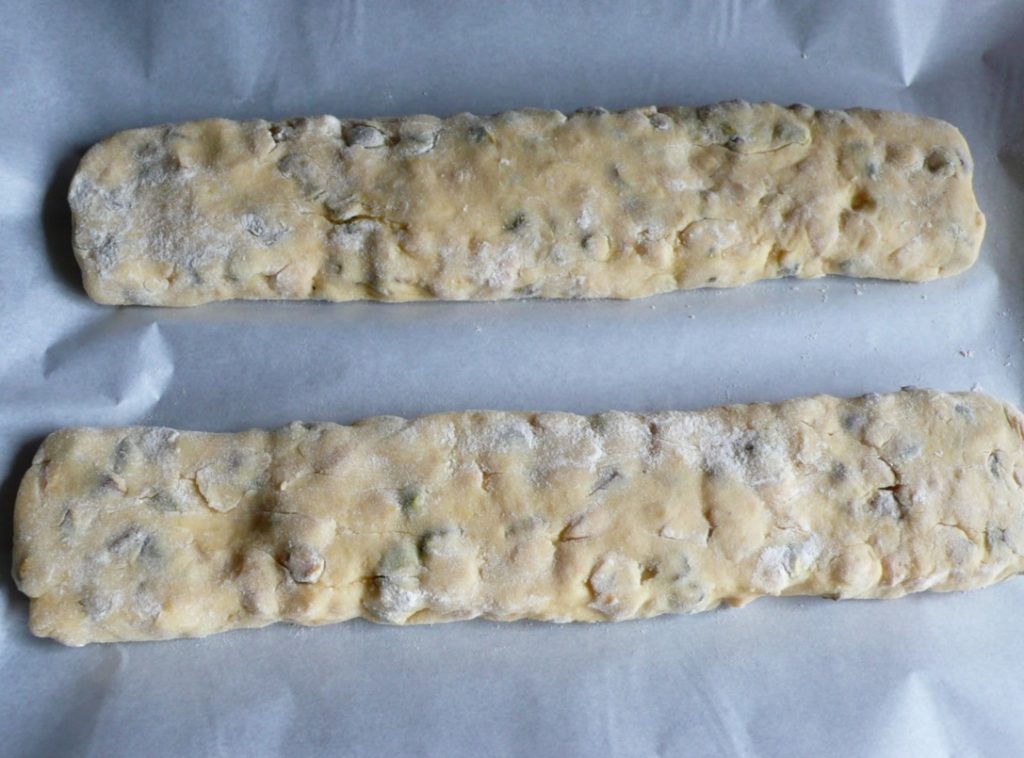 Send in a preheated oven for degrees 180 20-25 minutes.
Спустя указанное время («колбаски» должны почти пропечься, но не на 100%) достать противень, немного остудить и нарезать острым (хлебным в идеале) ножом на сухарики толщиной 1-1,5 see
Arrange biscotti resulting on parchment and sent back into the oven minutes 10.
The finished cookies can be eaten right away (it is still a bit soft, it is normal in the form of heat), and can then be cooled down completely - then it will be dry and crispy!
Cookies can be stored for a long time, that's just eaten a flash! :)
PS Love Italian food? Then take a look in this section and perhaps you will find for yourself something interesting!