Simple recipe for Napoleon, you have often asked me (by the way, a couple of times I described it in my instagrame, there is a photo, and received rave reviews :). But for the convenience of the public, I feel it's time to tell you about my, perhaps, the most favorite cake family recipe here on the website.
Our Napoleon fantastic without false modesty! One only how it smells when soaked in the room or when it is cut ... And it literally melts in your mouth!
Korzh - puff pastry (in any case not purchased, of course). It's not like puff pastry "ears" nadkusyvaya that crumbs fall on the chest, and it seems that inside - empty. I am categorically against such cakes in NapoleoneThough ever so many times to try
Napoleon Puff pastry, which was prepared at home, is quite another. Only butter (no margarine!), Flour and a little water. Preparation is very simple.
With regard to cream, the classic Napoleon is often prepared with custard, but there are other options. Our family recipe for a cake made with butter cream with the addition of cream cheese (like Philadelphia - recipe attached). Yes, before, of course, in the days of my childhood to this cheese, no one knew, so added a couple tablespoons fat sour cream :)
Cake soaked surprisingly, cream (despite the fact that the oil) - the most delicate. And most importantly - no cloying. After all, what could be worse than when the fat and sugary cake?
Often Napoleon bake our family recipe for a "special" cases (family holidays, birthdays, family, New Year). And always the same one: a lot of compliments and praise literally "descend" to the address of the cake. And if you bake several different cakes (which happens quite often :), Napoleon always diverges first just a flash!
And in spite of my love for modern high cake with cream-cheese cream, ganache and glaze erotic streaks, Napoleon has always been on the first place among the favorite. Why? Just because ... it is impossible not to love :) I guess it went from my childhood, when a large family together with grandparents we were going for the New Year's table, and in the New Year's Day morning, be sure to drink tea with the delicious Napoleon. And it taught me to cook my favorite aunt. This delicious cake I still do not eat anywhere else and no one ...
You still do not like Napoleon? So you're just not ready for it right recipe :) Let my simple recipe for Napoleon will give you and your loved ones warm and combine the festive table.
Enough preamble!
The most delicious Napoleon: easy recipe
Ingredients for cakes:
(On the number of turns cake d = 24 8 cm of cakes)
flour - 2 cup (~ 400 g);
butter (cold) - 250 g;
вода холодная – 3-4 столовых ложки;
salt - 1 / 3 tsp
Ingredients for cream:
milk - 10 tbsp;
sugar - 7-10 tbsp (taste);
butter at room temperature - 230 g;
cream cheese (Or fat sour cream) - 3-5 tbsp with a slide.
Preparation:
I repeat: a simple way of cooking, just do all the points, without departing from the recipe. Perhaps the most tedious work - it gently and patiently to bake all cakes, roll out thinly and not overexposing them in the oven!
Korzh:
Sift flour into a large bowl, add salt, chopped cold butter knife. Use your fingers to quickly grind butter with flour (so that it does not melt) in a fine crumb.
Add water (a little; you may need a bit more) and knead the dough - the consistency it should be such that you can make it into a ball easily. It can be a little stick to hands, but try to no longer add flour (except a very little), or cakes structure will be different!
The dough wrap in foil and send it in the fridge for at least 1 hours.
Taking out the dough, divide it into equal parts 8. Yes, the rest is better to remove the dough in the refrigerator again and get a piece of.
Take the bottom of the split mold (24 cm) and roll with a rolling pin dough with a thin layer form. If the finish is not quite smooth - do not worry!
No split form? Roll out thin dough on parchment and before you put in the oven, cut a circle with a plate of appropriate size.
Fork pinned rolled out dough in several places (NOT MUCHSince this will prevent the flake and climb, which is very important for the cakes!) and opravte in a preheated oven for degrees 180 5-6 minutes. Do not desiccate! Korzh instantly begin to rise. Browned - remove!
Repeat many times as necessary. If scraps left a lot, you can make another full cake. Or to put the last cake (from scrap) on chips (it is needed in any case).
Do not be alarmed if the cakes out "bloated" and uneven (see photo below :). Everything goes according to plan!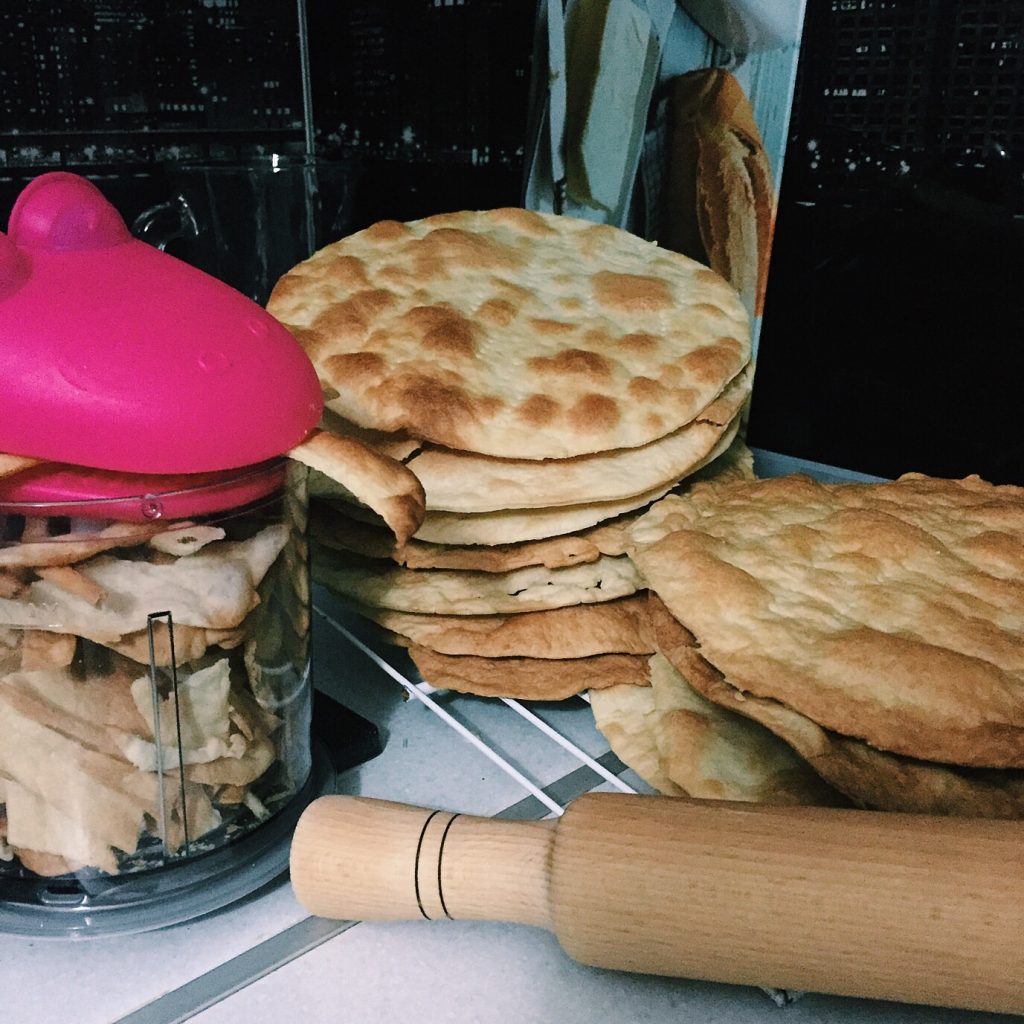 Cream:
In milk add sugar (sweeter want - add 10-11 spoons, I add 7-8), in a saucepan to heat until sugar is dissolved. Cool completely.
Oil RT beat with a mixer, add the cooled milk in small portions syrup. Do not hurry, the entire procedure usually takes 5 minutes. The oil must be very lush and increase in volume.
The cream is ready to enter the cream cheese (or fat sour cream), stir gently whisk (mixer not advise, the cream can "exfoliate").
Assembling the cake:
On the dish / stand, where you will collect the cake, put a little cream, a little smudge, put on top of the first cake (this should be done to a cake does not slide and did not go).
On the cake, apply a few tablespoons of cream (do not regret :), spread evenly with a knife or spatula over the entire surface.
Cover with second Korzh. And now attention - ONE OF THE MOST IMPORTANT MOMENTS - Crusts absolutely necessary to press, in any case, without leaving voids inside, otherwise the cake is saturated, and banal will look crooked and uneven.
So: put the cream, leveled, covered Korzh, cuddle (So ​​that all the inflated "bubble" burst). Do not be fooled that the cakes themselves may break during assembly. Believe me, when the cake is completely impregnated and "grab" it will not fall apart piece by piece. And cut it subsequently also no problem!
On the last cake on the sides and also be sure to apply enough cream. It holds its shape well and does not arise.
Sprinkle crumbs and / or walnuts (optional). Leave the cake to soak the first few hours at room temperature (if the house is not hot!), And then store it in the refrigerator (at least at night). Generally a home Napoleon becomes even more delicious on the 2 or 3 day (if survive :) - at this point cakes are so impregnated, that words can not convey :)!
Before serving, I recommend to get a cake for 30-40 minutes.
Enjoy your family tea party!
P.S. Со всеми рецептами моих лучших тортов вы можете ознакомиться here.