What is psyllium?
What is psyllium (psyllium), probably few know. I myself learned relatively recently, so I hasten to share with you, talk about it a useful natural product, as well as ways of its application.
Psyllium, simply put, - powdered psyllium seed husks. In other words, coarse fiber. The second of its name - isfagula / ispagol. In our latitudes it is almost not produce, therefore, extremely difficult to find in stores or pharmacies. The center of its industrial production - in India.
Psyllium does not have a pronounced flavor that is definitely a plus: adding it to food, foreign taste you feel! Here are but properties of its pronounced.
Psyllium: The composition and properties
For the most part it consists of psyllium soluble fiber (~75%), Which serves as a breeding ground for beneficial intestinal microflora. What results from "eating" soluble fiber bacteria enters into the blood and lowers cholesterol.
Studies on this subject have shown that intake of psyllium on 10 grams per day over 1,5 months in women and men with high levels of "bad" cholesterol (low density lipoprotein) has reduced this figure to 10-20%.
Dissolved in water, psyllium slows digestion and absorption of carbohydrates and fats, thus slowing the secretion of insulin. A surplus of insulin is known to be directly related to the deposition of fat.
So, do you think, what does it differ from our domestic bran? For comparison: popular in our latitudes, oat and wheat bran contain only ~15% fiber, of which only 5% They are soluble. insolubility fiber is not split by the digestive system, and captures waste our life and removes them from the body. Soluble fiber is processed beneficial intestinal microorganisms, it is necessary to them as food. That is why psyllium is considered one of the best remedies for the treatment of dysbiosis.
So, for the pronounced effect requires simultaneous reception of soluble and insoluble fiber. Consuming large amounts of fluid in this context is paramount (minimum, 2-3 liters per day).
Digestible carbohydrates in almost no psyllium, while in others they bran contains up to 60%.
It is vital to use a soluble fiber, to avoid problems with the intestines (especially during pregnancy, the active weight loss and low-carb diets), improved carbohydrate metabolism, as well as prevent the development of diabetes, cholelithiasis, atherosclerosis.
Psyllium is also the most powerful enterosorbent. Swelled in the intestine it is converted to weight and mucous toxins and waste products from the body. In addition, its action is aimed at enveloping the walls of the digestive tract, healing in it the wounds and erosions.
Proved and Endoecological Activity psyllium. It provides the correct outflow of interstitial fluid in the lymphatic vessels, helping to wash away the toxins from the intercellular space.
I led, not all properties of psyllium, and only basic. This is the cause of its benefits.
Psyllium: where to buy and how to apply
As I said, in our latitudes psyllium is almost not produced, so it is not easy to buy it. Recently in a drugstore I have come across a powder from seeds of a plantain and, certainly, have bought or purchased, without deliberating. The quality was upset. Particles of the powder are large, of different sizes. Dissolving this psyllium in water, it turns out not a homogeneous gel-like mass (as it should be), but a mucus that "stratifies". By color is also different from the Western analogue, there is a taste. I can not say anything about the properties of the powder purchased, I would hope that the benefit of this psyllium is the same as that of Western producers.
Best Quality psyllium one of those that I have tried - this. Please note, written on the packaging powder - Which means that the powder is milled into a fine powder (flour). I think this is an advantage, because I often add psyllium to baked goods (dietary waffles, muffins), pancakes, cheese cakes, pancakes. It will talk about below.
There is also whole husks - Whole uncrushed seeds shell. In size - about as flaxseed. According to the properties is no different. Ideal with yogurt, fermented baked milk, smoothies, juice, water. In general, someone like that anymore. However, for use in baking, is definitely more suitable powder.
Use psyllium important right! It is necessary to actively stir 1 teaspoon in a glass with a liquid and, WITHOUT WAITING swelling, drink. Optionally, drink more water.
Take preferably daily (it is not a cure, but a part of the diet), because the food we, unfortunately, do not get the required amount of fiber, which the body needs every day.
The direct indication for use can be indigestion (constipation or diarrhea), the high content of sugar or cholesterol, irritable bowel syndrome, diverticulosis. If experiencing these problems, the use of psyllium can be increased to 2-3 times a day. Importantly, do not forget to drink water!
Psyllium: with him cakes fluffy and porous!
The main property of psyllium, which makes it an essential ingredient of the low-carb and gluten-free baking - its ability to absorb moisture and turn into a gel-like mass. That is why it is important to obtain a homogeneous mass, as a gel, rather than a "stratified".
One gram flour psyllium absorbs 45 milliliters of water! A pastry with it gives a very porous and the air.
With regard to the waffles (which I do with psyllium often, because it is quick and excellent results), then they can be obtained with a crisp, unsaturated, lush and porous.
In fact, psyllium substitute in baking gluten (gluten), so adding it, you can feel free to bake thin pancakes, for example, made of buckwheat flour (gluten-free, you can do it almost - there is no elasticity and they rush). I also recommend adding psyllium to pastries from almond, coconut, sesame flour, it will significantly improve the structure.
Adding psyllium recommend also to enrich the product fiber (so often do in Europe, there psyllium is sold in supermarkets, and it often occurs as part of a dietary baking). What else? Yes, simply to reduce the amount of flour, reducing it to a minimum, but to preserve the structure and consistency (which is important not just for my waffles).
In the future, I will try to lay out here for more recipes using psyllium, since the quality of baking (especially diet!) It improves the incredible way.
And now I focus more on the wafers.
Almond wafers with psyllium: recipe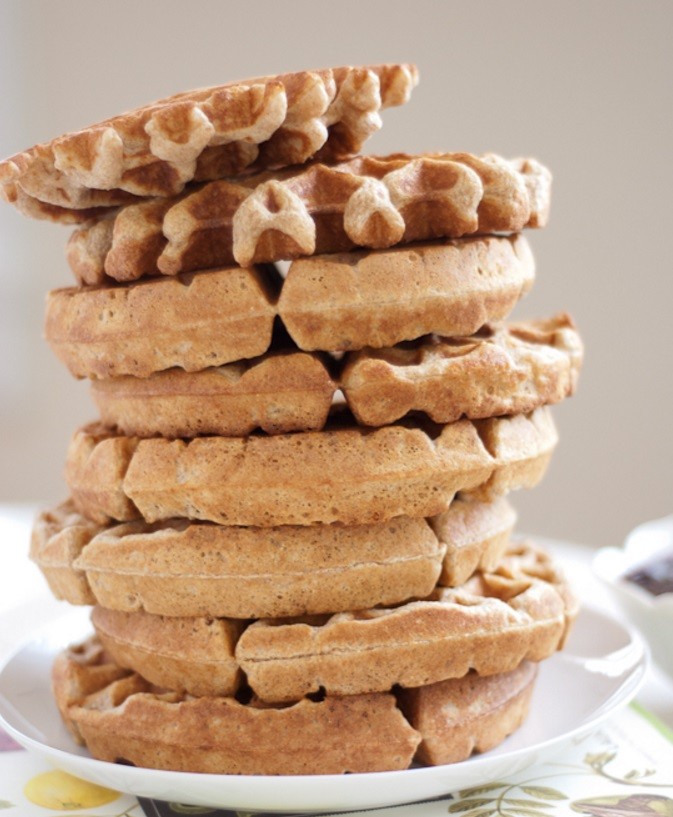 Ingredients (3 waffles)
almond flour - 40 g;
wholegrain wheat flour - 30 g;
eggs - 2 pieces;
psyllium - 1 tsp;
water - 150 ml;
milk - 50 ml;
Salt - a pinch;
baking powder - ½ tsp;
vanilla - to taste;
sugar or Stevia - on request.
Preparation:
Psyllium add water. Let it brew 5-7 minutes.
Beat eggs until fluffy, add the milk.
The egg mixture, add the remaining ingredients (dry), mix well. At least add the swollen psyllium, mix thoroughly.
Writing test stand 3-5 minutes. The consistency should be quite thick for pancakes (I prefer thicker). But guided by your own taste; if necessary, add more water / milk or flour (you can just psyllium).
Bake the waffles in the waffle iron according to the instructions (1,5-2 minutes).