And although the window is not already summer, indulge in a favorite treat children and in during the upcoming New Year holidays It is necessary. In connection with this recipe for ice cream classic, sure to be a very appropriate!
Just imagine: the morning 1 of January, everyone wakes up, as usual, closer to the dinner (or a later than usual ... :) Kto-to prefers to eat breakfast easy and kto-to - eat "remains of luxury" with a festive table, always one thing - crave dessert, to which, of course, it did not come on the eve.
It was then, and he goes on stage - a classic ice cream. Today, this already can not buy in the store: a minimum of ingredients and, of course, all natural!
The most important advantage in this recipe for me is that all of it can be remove sugar (Replacing it with steviaSyrups or honey) - calorie reduced significantly, and the benefits, on the contrary, increase.
Tens of supply options - this is exactly what you need, when all gathered around the table like ice cream, but some prefer to pour it with chocolate sauce, someone - raspberry jam, someone who likes to nuts, and someone - salt caramel. Recipe Ice Cream is one for all, a different topping and filling!
Although, to tell the truth, I do eat ice cream in winter is very rare, but for New Year's table for some reason I always want ice cream. It has become a tradition since childhood :)
The recipe is simple, be sure to try, do not deprive yourself of the pleasure (just remove the sugar from the composition or use it at a minimum, if the limit yourself to sweet).
Recipe Ice Cream classic (GOST)
Ingredients:
cream (from 30%) - 350 ml;
whole milk - 250 ml;
egg yolks - 3 pieces;
sugar* - 100 g or to your taste;
vanilla - to taste.
Preparation:
Milk pour into a saucepan, bring to a boil, remove from heat, cool slightly.
Beat yolks with sugar in a lush lather.
*If you are using stevia or honey, then whisk the yolks with a pinch of salt minute 2-3 to an increase in volume.
In portions, pour the hot milk into the egg yolks while continuing to whisk. Once again, the whole mass pour into the pan and, stirring with a whisk, put on a slow fire to the minute 3-4. The weight should be slightly thicken.
Remove from the heat the milk mixture to cool and then place in the fridge to cool (for an hour and a half).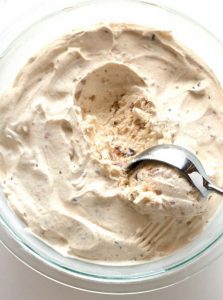 Cream (must be cold!) Beat until fluffy. Enter them in the yolk-milk mass and stir all whisk or an electric mixer at low speed. At this stage, you must add the vanilla and stevia or honey / syrup, if you use them instead of sugar.
Not necessarily, but you can also add in cream or chocolate chips cookies, any nuts, dried cherries, cranberries and candied fruit.
Sundae pour forms (or use one large) and put into the freezer until complete solidification (at least 3-4 hours). Be sure to get ice cream every 40 minutes and mix thoroughly whisk or mixer, you must repeat the procedure 2-3 times, so can avoid icicles and making ice cream in a block of ice.
Here's a simple recipe for ice cream I use, perhaps, most of all, to prepare ice cream at home.
PS adhere to a strict diet and do not allow yourself too much? Then cook diet ice cream - From him you will not get better for sure :)!