Of course, the cake Medovik (he's Honey) knows everything from childhood, even if they have not tried it properly: known since Soviet times, he must be saturated with sour cream and smell of honey (at least, this should be Medovik in accordance with GOST). I still do not dare to attribute it to GOST - firstly, I moved away from the classic recipe a little, in order to make the cake less sweet, and the cream did "compose" at all, combining several recipes known to me. Medovik turned out very tender, soaked in 200% :), no sneakiness (lovers of moderately sweet / unsweetened cakes will appreciate!), Only a light hint of honey and a fairy cream, also absolutely lean and light, in short, the most delicious honey cake. Simple recipe in the above enclose proof :)
I must say that all the honey cake that I ate before, alas, does not claim the title of your favorite cake. Primarily because of the sweetness or "himoznogo" flavor, which is especially important for cakes from the shops / cafés. Or just seemed primitive taste: honey cakes and sour cream, as for me - nothing special. Sometimes the cake is not well impregnated (or tasteless cream), which also makes it a not entirely successful.
My honey cake, bold and indiscreet I can say :), the most delicious and unusual of all, what I ate! Excited were all the guests who tried it. It was not indifferent! So I just have to tell you about the most delicious honey cake, a simple recipe which, I hope, will always be in your bookmarks!
Before you go to the recipe, I will explain about the cream: Ideally, it should be swept away, some do it 50: 50 with butter, some - on the principle of ganache (heavy cream + oil + chocolate), the options are many. But as for me, this is a very simple, either zhirnovato. Although, of course, the taste and color ...)
My cream honey cake from the simplest ingredients, is a cross between custard and cream (do not let that scare!). It turns out very tender, nepritornym, texture smooth, moderately thick, ideal for soaking the cake; flavor - caramel and honey! As for me, this is the best possible cream.
In short, the most delicious honey cake: a simple recipe - excellent results! Cooking must!
The most delicious honey cake: easy recipe
Ingredients for cakes (d = 24 cm):
flour - 500 g;
sugar - 170 g;
butter - 120 g;
eggs - 3 pieces. (Large);
Honey - 80 g;
Soda - 1 ½ tsp
Ingredients for cream:
milk - 350 ml;
corn starch - 30-35 g;
eggs - 2 pieces;
boiled condensed milk - 300 g;
butter - 100 g;
sour cream (from 25% and above) - 250-300 g;
Preparation:
Dough. In a small saucepan or skillet combine sugar, butter, honey. Put on the fire, heat, stirring to dissolve all ingredients.
Lightly beat the eggs. Carefully add them to the already warm mixture of sugar, butter, honey. Stir, heat to simmer for a minute 3-5 until foaming. After adding soda, without ceasing to interfere with, boil for about a minute. The mixture becomes fluffy to increase in volume.
Remove mixture from heat and add to the flour (in a large bowl), knead the dough. At first it may appear sticky, but as will cool down, it will become elastic.
Few of his hybrids. Then make a "bun", divide it into equal parts 8 (you can cover them directly on the table with cling film so as not to expose to the wind).
Preheat oven to 190 degrees. Roll out the dough (by taking one of the eight parts) and transfer to a baking sheet with parchment - Do not try to make a smooth cake, the desired diameter. I advise you to roll out the dough conventionally round shape, and then, removing the cake from the oven, using the "stencil" (bottom of the split form the desired diameter) and a knife cut a circle.
Bake the cake should be just 3-5 minutes, he very quickly browned (do not overdo!). While he was still soft and hot (literally a minute to cool down and become more solid, like cookies), immediately cut the circle out of it. Trim fold in the bowl of a blender - they will be needed for the crumbs, which will be decorated cake.
Repeat the procedure with all parts 8, 8 received cakes.
Cream. Beat eggs together with starch.
Heat the milk, not boiling. Carefully pour it (often!) Into the egg mixture, still whisking.
Again, pour the mixture into a saucepan and cook over low heat, stirring, until thick 5 minutes. Do not be afraid of lumps - after they are gone, and the final stage of the cream is smooth and uniform. Cool slightly.
Add the warm mixture of condensed milk (parts), stirring with a mixer.
Butter (it should be at room temperature), beat a couple of minutes in a separate bowl. Add it to the mixture, stirring with a mixer.
Sour cream is also necessary to whip in a separate bowl until fluffy (minutes 3-4). The last thing to gently push it into the mixture. Stir spatula or mixer on the lowest speed.
Assembling the cake. Put the cake, generously lubricate it with cream (do not regret :). A little sprinkle crumbs, pre-shredded in a blender.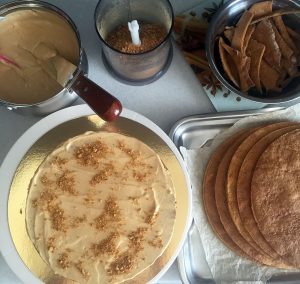 Cover with second Korzh, a little pressing. Also lubricate the cream and then sprinkle with crumbs.
Repeat the procedure with all the shortcakes. On the sides and do not forget to put the cream. Above, on the last cake, cream put more than usual, razravnyayte. Sprinkle crumb garnish fruits / berries (optional).
Be sure to let the cake to soak for at least a night in the fridge. And in the morning you will enjoy its divine taste.
Gentle honey cake will please you and will no doubt surprise your guests.
Now that you know how to cook the most delicious honey cake :) With best recipes of other cakes you can get acquainted here.