Friends, I know many people want to learn how to bake delicious cakes, someone already knows how to do this, but there are also those for whom the process (make the "correct" the dough, bake lightweight porous sponge and finally collect a nice tasty) seems unfathomable mystery . I want to share with you the basic recipe for sponge cake (very simple, I want to see!), Which is obtained is always easy, high wet enough (does not require soaking!), But it is very lush. Like chocolate biscuit easier? Get! :)
Already difficult to remember who the author of this creation, but a simple biscuit recipe "in the boiling water" has become very popular!
What I like the cake is his texture, rich chocolate flavor (it is the "damp" sponge enhances and emphasizes this) and, you guessed it, ease of preparation. Entangled in this recipe is simply impossible. And if you follow all my recommendations, you get a delicious cake that can serve as the basis for any cake, and become a separate dish (a pie, cake, and this recipe can safely oven muffins /cupcakes).
In short, it is preparing a chocolate biscuit snap! Yes, and a minimum of ingredients - what you need, when suddenly the evening will know (read - remember :) they need tomorrow to entertain colleagues or friends cake. I assure you all will be pleased!
Chocolate biscuit easier: a step by step recipe
Ingredients (for form 18-20 cm):
flour - 150 g;
sugar - 200 g;
extract vanilla / vanilla - to taste;
cocoa powder (unsweetened) - 3-4 tbsp;
baking powder - 1 tsp;
Soda * - ½ tsp;
1 egg;
milk - 100 ml;
boiling water - 100 ml;
vegetable oil (unscented) - 50 ml;
Salt - a pinch.
* - And immediately I say: do not replace the soda in the recipe on the baking powder, and vice versa! Be sure to use both ingredients, as they operate in a different test. Soda does extinguish do not need this "grandma" method (connecting more in the spoon, soda and acid react chemically, and all the carbon dioxide evaporates before it reaches the dough. And the reaction of this and stand out as a result of gas bubbles just we need in-taki dough during baking. This is why the cake turns a lush, tall and porous).
Preparation:
Sift in a bowl all the dry ingredients, add the sugar in the least. Stir whisk.
Separately, beat with a mixer milk, eggs and vegetable oil. Add the resulting mixture to the dry ingredients. Mix well (can be a mixer).
Put the kettle - we need very hot water (almost boiling). Measure 100 ml and pour in the batter. Mix well (just to avoid lumps, but not too long to be beating) and pour into the mold.
Yes, the bottom of the form is best to lay a parchment.
Bake chocolate biscuit need 30-45 minutes (depending on oven), be sure to check the readiness of skewer (it should be dry).
Well, I agree that this cook chocolate biscuit easier :)
Other recipes of cakes and biscuits are available here.
Chocolate biscuit easier: NB!
I would like to draw your attention to some of the important moments.
This biscuit grows very well in the oven and is often raised by a "dome" (it may even crack). It depends on many factors: shape, heat distribution in your oven, reaction of ingredients, etc. Do not be discouraged if this happens. If the "dome" is small, then just turn the biscuit out of the mold onto the grate (upside down). After lying for a while, he almost equalizes and leaves. Or simply cut off the top with a knife-saw (I often use cut biscuits for portioned desserts - the same "cakes" only in bowls, bowls, crumbling biscuit layers with cream).
Ready cake obtained is quite lush and tall. Sometimes I even cut it into 2 part (2 result is a cake, each 1,5-2 cm). Cut the only completely cooled cake!
If you want a high cake as it is now fashionable :), then you will have to bake at least 2-3 (!) Cakes (yes, all of the ingredients for the dough will need to multiply by the desired number of cakes).
If possible, it is best to wrap the cooled cake in plastic wrap and send it in the fridge for at least 2-3 hours or overnight. So he will become "juicier". In general, you feel the difference!
As to the form for baking cakes, the opinions diverge. I recommend it for cakes using either solid aluminum (coated) or split.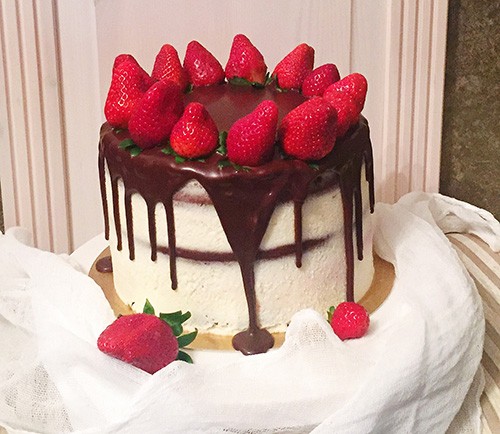 And it's all about the chocolate biscuit snap!